РАДИО РУССКИЙ БЕРЛИН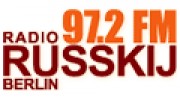 Radio Russian Berlin, the only full-length Russian-language radio station in Germany, broadcasts at a frequency of 97.2 FM in the German capital and its environs. Internet broadcasting allows users from around the world to listen to the radio station around the clock. The unique format Radio Russkiy Berlin was created taking into account the needs and wishes of the audience of the radio station. Radio Russian Berlin is a new and golden hits in Russian, news releases with weather forecasts and road conditions every hour, interactive communication, competitions and a lot of entertainment programs.
Радио Русский Берлин
Радио Русский Берлин
Подключение...
Cтанция оффлайн
Превышен лимит слушателей
Attention! This is not an official chat. RJs don't see you
X
Забанить
пользователя:

На час
На день
На неделю
Разбанить
Навсегда
Блокировать
сообщения от пользователя:

Блокировать
Разблокировать
Стандартные
Дополнительно
Эмоции
Стикеры
Mem
Опрос недоступен для текущего тарифного плана
Вопрос
Варианты ответов
Показывать результаты
Начать опрос
Закончить опрос
Новый опрос
Звук личных сообщений
Видеть забаненных
Разрешить вход без регистрации
Очистить чат